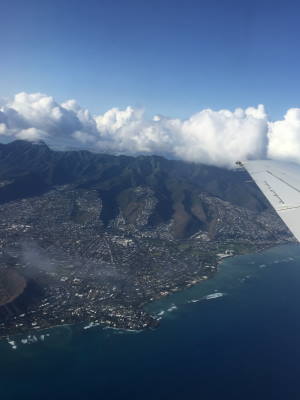 Recently I traveled over to Oahu for a PET scan, to monitor the status of the stage three melanoma that I knew I was winning on. I was sitting in the window seat, the middle seat was open, and a Hawaiian man was in the seat on the aisle. After we had been up in the air for a while he leaned over and asked "Do you live on the Big Island?"
I responded with "Yes, currently up in the Fern Forest Area."
He responded "I live in the Wialukea area. What brought you to Hawaii?"
"I moved back to the Big Island in 2015, when my husband of 30 years died." I said.
With sincerity and a kind look in his eyes he expressed his condolences and said he had recently gotten married for the first time at 50. He had had other girlfriends but being married and living with the same woman daily was hard.
I laughed and responded, "Yes, I know what you mean. We women can be interesting critters. You have to just love us, not try and figure us out," with a smile in my voice.
He said his favorite thing in life was to make other people happy. It gives him great joy. He said he had only been off the island twice in his life. The first was his recent honeymoon with his wife to Bali. They had a wonderful time playing on the beaches. He had found a group of kids to run and play tag with and they all had a blast running, laughing, and enjoying life.
Their next trip was to Japan, to meet his bride's family. One day his wife and he went to the beach. He saw there were two groups there. On one side of the park were teachers, parents and kids laughing and running, playing and having fun. Over on the other side was a smaller group but they were all just sitting solemnly at the picnic tables. He was drawn over to the quiet group and discovered they were a group of special needs children.
He introduced himself as Manny, a surfer from the big island of Hawaii, visiting his new wife's family. He sat and talked story with the group and before long got up and started playing ball with a couple of the kids. More joined in. Soon they were all laughing, running and actually having more fun than the first group, on the other side of the park.
As the afternoon drew to a close and he prepared to depart, he gathered the kids together as he had something important to share with them. He told them "Every morning when you get up, look in the mirror, remind yourself that you are BEAUTIFUL and you are AWESOME!" The kids started laughing and dancing and hugging each other as they claimed their beauty and their awesome attitudes of love.

The parents and teachers hugged him and thanked him for bringing his Aloha all the way across the ocean to show their kids that they ARE beautiful and awesome! As he and his wife walked away, the children ran and danced in the sand behind them. Manny would take a couple of steps then stop, turn around with a big grin on his face and ask one of the kids with a smile "What are you going to tell yourself in the mirror every day?" "That I am BEAUTIFUL and AWESOME", the kids would reply with laughter as they each took turns.
I believe that nothing happens by mistake. I needed Manny to sit next to me as I faced my fears, to remind me that " I am beautiful and I am awesome!" Regardless of what the test results are.