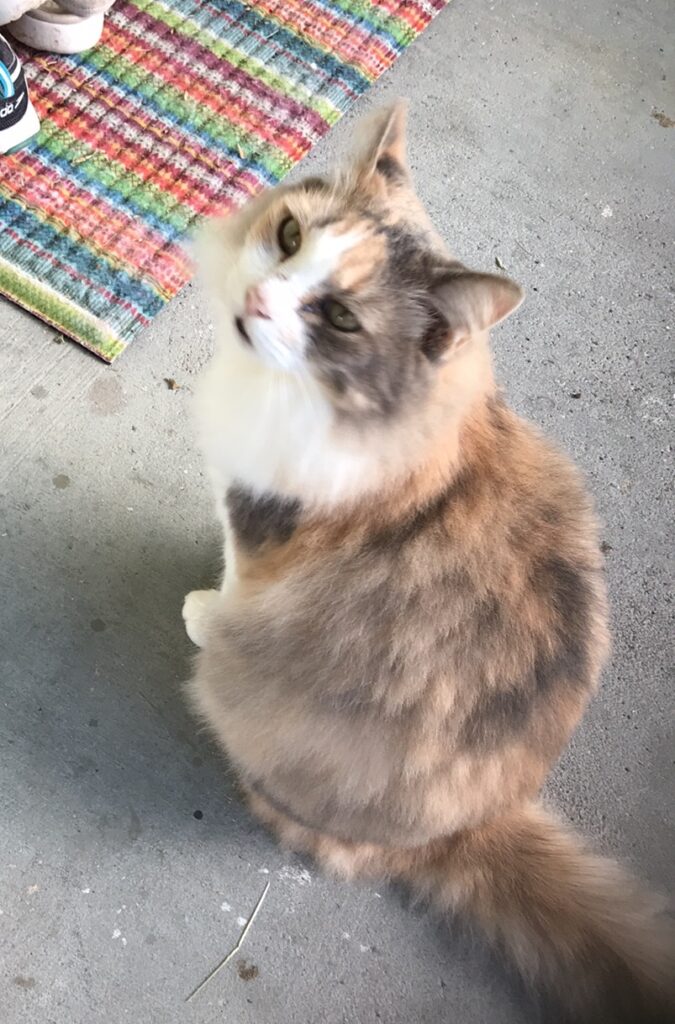 Momi was a beautiful light colored calico jungle kitty who came into my life in a round-a-bout way. I love cats, have had cats most of my adult life, and was thrilled when I moved into a place where I intended to stay long term. The landlords said I could have a pet if I wanted and my instant response was that if I did, it would be a cat. At the time I was working a full time job, gone from home almost 12 hours a day so I didn't get in a hurry to get a kitten. I live in an "Ohana" behind the main house. The landlords were here from Oregon, living on the property as they did repairs and improvements. The husband wanted a cat and some friends of theirs had an adult female cat they were looking to re-home, as she wasn't getting along with the other two cats in the household. The landlords asked if I would be willing to take the cat when they went back to the mainland. I agreed and Momi came to live on the land. At first she lived in the big house, living like a princess, being very loved and spoiled. They had her for about three months before they decided it was time to go back to the mainland and we started the transition of Momi to the Ohana.
She had never had anything to do with me when she lived in the big house. I was not her people, she wouldn't even let me pet her. We slowly became friends, bribing her with food. Isn't that always the best way to a jungle kitty's heart, even if they don't live in the jungle any more? It took about a month and she became my kitty. 

She was the most beautiful kitty I have ever owned. Momi means pearl in Hawaiian and beautifully describes her multicolored coat. She loved to be brushed and she was a lover bug. She was also very smart. She loved to be near her peeps. She was always near me when I was home. If I was sitting on the couch, she was sleeping on the back of it. If I was sitting on the futon bed, she was laying near me. If I was sitting at my computer, we had a deal where I pulled the footstool over and she sat next to me, since I didn't allow her up on the desk as her previous peeps had. If I was doing an energy healing, she was my secret tool, jumping up onto the massage table, adding her loving energy to the mix. If I was doing remote healing, it was not an issue and for the people I have had live sessions with, they have not minded her being a part of the healing journey. She added a very loving energy, my healing kitty.
Now Momi is missing and my heart is broken. Today is the sixth day she has been gone. I haven't given up hope that she will return as I am forever a Pollyanna. But I also can't feel her energy. I have tried to connect with her spirit and felt nothing. The woman whom she used to belong to, has had the same experience, she does't feel her either. What has happened to Momi? I feel like she has used her 7th life. The day she went missing, I heard from a friend and her daughter whom I hadn't heard from for several months, they sent me "rainbows". Was that a sign that Momi had crossed over the rainbow bridge or am I making up stories?
I believe that nothing happens by mistake. Sometimes we don't know the why, ever. Sometimes the why presents itself quickly. When my husband committed suicide, I understood why. This I don't understand. I love Momi. I needed her love. She was always waiting for me when I came home. Now I come home to an empty house. I started picking up and putting her toys away yesterday. I'm still struggling with the tears, the true emotions approaching reality that tell me she is not coming back, and I am in denial. I've done "all the right things", posting her missing on multiple Facebook pages, reporting her to the humane society, posting flyers in the neighborhood, walking and driving the neighborhood handing out smaller flyers. Yesterday I did a Reiki session at the suggestion of a fellow Reiki master. I found comfort and peace in the session. I asked if Momi was ok and the answer interpreted was Yes. I asked if Momi was coming back and the interpretation was No. The feeling of peace stayed with me through these questions and answers, though there is still a heaviness on my heart at the loss of this sweet loving pet.